Stop hiring the resume. Start hiring the attitude.
From the desk of Toby Clem
---
[some of the links in this article are affiliate links. they help us keep the lights on, so that we can keep putting out this content to help restoration business owners keep from being consumed by the day to day operations.]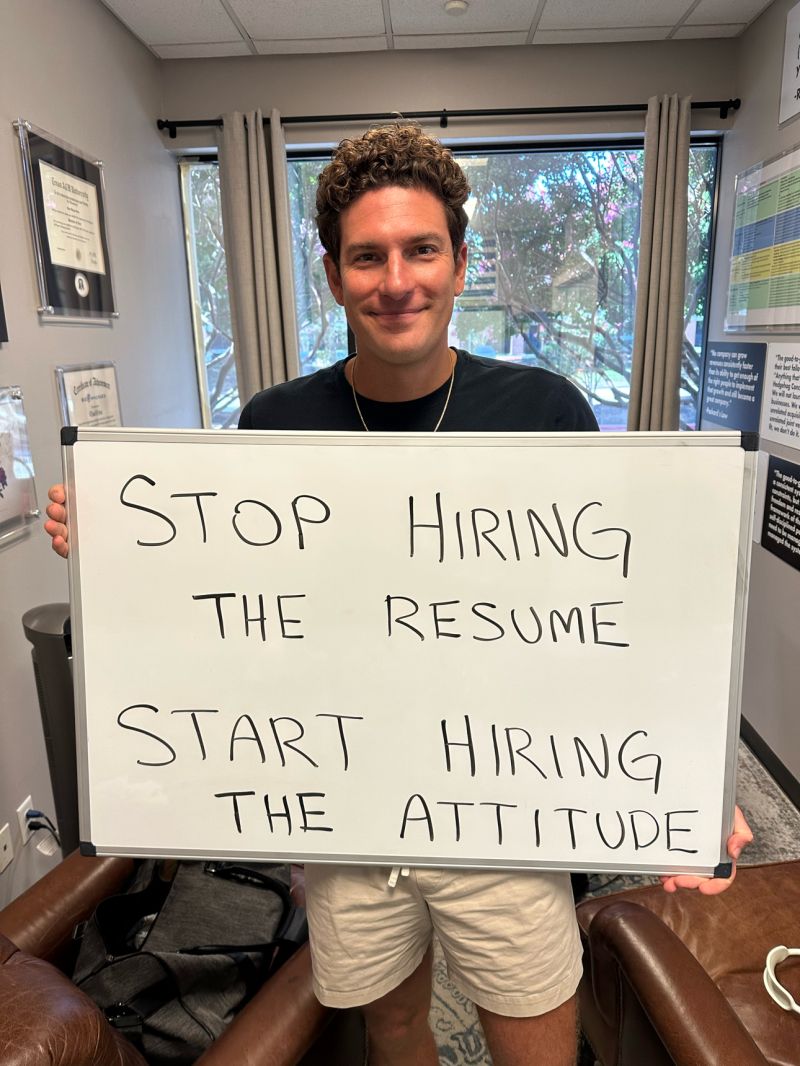 This was a post on LinkedIn that went viral. You may have seen it. This image summarized what we've been telling our clients for quite some time in the midst of the massive problem with personnel that the trades (and many industries for that matter) are facing.
Its so easy to hire anyone that will show up for an interview. Someone that is breathing and shows up to an interview is a unicorn these days unfortunately. But its so important for your sanity, the sanity of your people and the longevity of your business to be selective in your hiring process. Get crystal clear on who your company needs, and what role they will be filling.
As a result your company culture will thrive. There will be an upbeat problem solving culture. The culture will demand new challenges and opportunities. It won't require as much babysitting. It won't require so much of your time trying to manage. You and the leadership team can focus on leading. You can focus on outcomes. Not tasks. You'll be able to unlock the American dream and a level of freedom that you've only dreamed of.
Now, let's dive in and look at 5 Key Elements for Implementing a Structured Interview Process that will help you build this incredible culture so you can find the right attitudes... regardless of the resume.
Clearly define job-related criteria and competencies

Consistent interview questions for all candidates

Rating scales or scoring rubrics to evaluate responses

Multiple interviewers for diverse perspectives

Documentation of interview evaluations for future reference and comparison
Clearly define job-related criteria and competencies
Defining the roles in the organization is always the first step to building a business that can operate with as much limited involvement from you as you wish. The expectations are designed so that all levels of the organization can hold one another accountable. But more importantly, new hires know EXACTLY whats expected of them and how they can have the greatest impact on the organization. Clarity always produces greater output with a higher rate of efficiency. aka: get more jobs done with less resources, whether it be people, equipment, or product.
Here at Restoration Advisers we have a restoration business model that has proven to eliminate most of the administrative staff and middle management of traditional restoration companies, as a result the field workers can make over six figure incomes. Once this level of efficiency is unlocked, you are to attract high level operators who have the ability to lead, manage, and hold themselves and others accountable to produce 6 star service with 5 star results.
If you'd like to hear more about this model, contact us and let's talk about how we can help you implement this model!
Whether you are interested in this model or not, by clearly defining the roles that your organization needs to thrive, your new hire candidates can get a really good idea of where they can have the most impact.
Consistent interview questions for all candidates
Consistency always brings clarity. But it is a symbol of a well designed system that produces predictable results.
When I worked at UPS Freight as an inside sales manager, I was responsible for interviewing new hires. But management needed something to help determine if the candidate was worth their time and a second interview. We developed a group of questions that every candidate was asked, and a scoring system that allowed us to compare the candidates.
The key is to develop a line of questioning that helps uncover the persons character, their general attitude, and their social skills. You'll notice that all of these things cannot be taught. Thus the reason that we direct our clients to focus on hiring people that possess these traits rather than experience in the industry. Drying a structure, demolition, and management skills can be taught. The others cannot.
If you are the person that does all of the interviews and you have questions that are consistent, you'll be able to start picking up on subtle clues. After you've gotten a little practice and you've seen how people respond to the questions in the interview and then see their behavior after they've been hired, you'll start to identify patterns.
Rating scales or scoring rubrics to evaluate responses
Once the interview questions have been outlined, develop a scoring system for the questions. A scale system often works well if you are are asking open ended questions. If you are a using a 1-10 or a 1-5 scale, your gut will have to be how you grade them. Sometimes it will take a few interviews to hear responses and allow your instinct to help you put a number on the responses. Don't look for perfection. Let your instinct be your guide. Develop the habits, and in time build a database of interviews, responses, and grades, and you'll be able to start picking out great employees before you hire them without rolling the dice and taking big chances with everyone that walks through the door.
Multiple interviewers for diverse perspectives
Some of the best employee onboarding systems have multiple members of the team interview the candidates. This allows a variety of perspectives to help guide the decision. Often there is a HR screener to get some of the preliminary liability items, etc out of the way. Then a member of management will interview them to better understand skills and overall fit for the organization, then the team leader for the role being interviewed will have some time to determine if the candidate is a good fit for the team, and how they might interact with them.
In a world that is desperate for people to just show up, management will bring people in and just put them on a team without making sure that the new employee and the leader are compatible. This can lead to significant friction. This friction can lead to tenured employees getting frustrated and pursuing opportunities outside of the organization. A little process, procedure and preventative maintenance can reduce turnover and make an incredible place to work.
Documentation of interview evaluations for future reference and comparison
We've got a quite a few tools to help you systematize your employee onboarding process. One of them that is most interesting and impactful is DISC Assessments.
DISC Assessments help you understand the personality of your candidate and how to best communicate with them. Knowing and understanding this could help you take what could turn out to be a bad interview and make it an incredible one ... just by better understanding the personality of the candidate and how they modify in a public setting.
The key here is to get a baseline as early as possible so that employees can be measured as they progress through your company if they are privileged enough to join your team.
We have a great tool that is given out to all members of Restoration Business Academy for grading employees on a interval that makes the most sense for your company. Its a tool that provides each employee of the company with a score and allows you to see immediately how they stack up against the rest of the organization.
It also allows you to quickly identify areas that the organization is weak, and provides insight on where leadership should focus training efforts to build the team up and provide clients with a better experience.
The tool also provides the entire organization with a score so you can monitor the health of the organization on a interval that makes the most sense for your organization.
Join Restoration Business Academy today to get the Team Assessment Tool today, along with hundreds of other downloadable resources, training videos, group coaching, exclusive action biased community and so much more.
As you get a process documented for employee on boarding, another incredible tool train others how to carry on your employee onboarding process is to build out an interview section in Trainual.
Our goal: Don't be consumed
At the end of the day, our goal is to help anyone that wants it. The goal is for our community to stop being consumed by their business. In restoration companies, there are generally 2 primary battles; staffing and outside interference on invoicing. Hopefully you have just gained a little insight on how you might be able to mitigate the challenges of staffing. If you'd like some help establishing a process, and building an incredible team that carries on the incredible culture you dream of, contact us and let's chat!
If you aren't quite ready to reach out, no problem, be sure to subscribe to future blogs by filling out the form below. Drop a few lines about some challenges that you are facing that you'd like to get our insight on. We'll add the topics to our list for future blogs, podcasts, YouTube videos, and more!
Are you buried in your business and looking for a way to design your own independence?!
We have a lot of resources available for companies large and small. Connect with us using this form to get our weekly educational publication, as well as other news and updates from Restoration Advisers!